Edith Rolfe
This account taken from a tape recording was made in 1974. Edith was born in Caston in 1887. In this account she recalls her childhood having lost her mother at the age of three and her father at the age of nine.
Mrs Edith Rolfe remembers:
I was born at Chase Farm Caston on 6th May 1887, my parents being Emmanuel and Hagar Banham. Previous to his marriage, my father lived at Florden Hall and after his marriage he farmed in turn at Horningtoft, Foulsham and Bawburgh before taking the tenancy of Chase Farm. He had three brothers, William, Robert and George. Robert won fame by producing a new strain of wheat, which proved a financial success.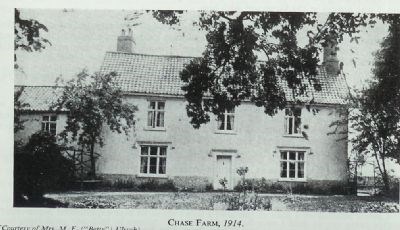 We had a lovely home, having the entire house, which is now shared by two families. I must say how good it was to see Chase Farm House so well kept when I saw it recently. In my days the approach to it was quite beautiful, with a good drive right up to the large open green. There were no buildings thereon, as at present, and the fine barn looked quite important. On the right, as the house was approached, there were three ponds formed from clay pits, one of which contained fish which were enjoyed, and one of which was used for sheep dipping. Now somewhat overgrown these were then open to full view. My sister, my brother and myself were taught by a governess at home until we were able to go to school in Watton, being taken daily by pony and trap. We regretted not being allowed to attend Caston School.

When approaching Caston church quite recently, I was delighted to see the churchyard looking so well kept and the railings freshly painted. On entering the church, it too presented a pleasing sight. Meeting Miss Fairbrother (headmistress), we learned of the celebrations about to take place – 600 years of church history. A noble building, it looks as if it may stand as long again.

I must state that it is a great joy to know of the working together of the Church of England and the Methodist Church, this being in distinct contrast to what it was in my childhood days. My dear mother was a devout Christian. We all attended the Methodist Church. Mother took the bible class on Monday evenings, and if for some reason a preacher did not arrive for Sunday service, she would preside and take the service. My sister Ellen was organist as well as Sunday school teacher, in company with Miss Anna Murrell and Mr Macro. Anna was daughter of Mr Murrell postmaster, and she married his successor, Mr Ernest Buckle. Rachel Murrell, from another family, married Mr John Barnard.

During the summer months, the Methodists held what were termed camp meetings, which were enjoyed and well attended by local and neighbouring folk.

The Sunday school anniversary was held in our barn, all cleared and cleaned and decorated. Visitors from miles around used to attend. Also, the Sunday School Treat was on The Chase. At Christmas, the Sunday School party was held in our two kitchens. Those were great occasions.

I well remember the Sunday School one Sunday morning. The men present – which must have included Mr Barnard, the Sunday School superintendent – being in almost silent conversation. However, I did catch the word "gun". An old man by the name of Chaston, who lived opposite the Chapel, and who used to go around with a basket on his head selling various articles, had apparently tired of life and so ended it.

A somewhat brighter occasion was that of Miss Cooke, a daughter of the landlord of the Red Lion, being married. It was a great sight for me to see the red carpet laid from the door of the house all along to the church door. The bride, I thought, looked like an angel.

Mr Murrell, the postmaster, was a fine man of the army type. When they told me he had been up in the clouds it was a great puzzle to me. It was of course by balloon. He used to sound a horn as he walked up The Chase when bringing letters for us or for the cottages of which there were two further up. Mrs Perry and her son, who was killed in a thunderstorm, occupied that nearer to the farm. Two families, both named Pooley, occupied the further cottage. The men were head horse keeper and horse keeper at the farm, the father earning twelve shillings a week and the son ten shillings a week. Other workers included Mr Barnard and his three sons Fred, Tom and Dick. I heard some years after his death that Tom lost his life after being suffocated by a stack falling on him. So very sad. Tom was a great pal of mine. I was always in the farmyard with him.

I call to mind the great freeze of 1894. Frost started in February and lasted throughout March, and much snow fell, causing hardship regarding food for animals and hindering work on the land. Three clay pits on The Chase, all one in winter, were frozen over. The village folk having great joy skating thereon.

I saw for the first time a motorcar in the village when I was seven or eight (1894 or 1895). It was, I think, Dr Panting's of Watton.

On March 25th 1895, which was a Sunday, there was a great gale. Much havoc was caused. A huge tree up The Chase fell; the sails of the windmill were damaged; much damage everywhere. This gale was announced in Old Moore's Almanac for years. Reading a book some time ago on Norfolk, it stated that Norfolk was a shambles the next day.

Bilham's shop was a great attraction; for three pence, I was given a big bag of sweets, quite the opposite to today's prices. Alas! the shop is no longer there I see.

I used to love going for drives with my mother or sister Nell (Ellen). One day I was taken to Thetford for dinner at Dr Minns and then taken up Castle Hill.

Caston boasted of a man of the law; I don't think he ever experienced much trouble.

We had lovely summers in my young days. The harvest time was a great joy. After harvest the workers were given a "hawkey", a time of jollification which all enjoyed. I remember women were employed to take up any remaining corn lying around after cartage and gleaning was always carried out. A boy, I can't think of his name, used to come to the door with two cans: - "pint and a half and half a pint, plish" – plish for please.

There was a blacksmiths shop. My father and mother were great horse people. My father used to drive a horse, and used to have two pairs of reins because it was such a frisky animal. My mother loved horses. I used to love going for drives. We used to go to Watton and Attleborough. They were happy days and lovely days.

A great occasion took place at Watton Agricultural Show when I was six or seven, for a balloon was to be flown, which caused great excitement.

Daisy, my sister, was sweet and I've been told she was my father's favourite, but I was a little monkey. My mother always said I was so inquisitive that I would like to know the groundmarks on a meg's (flea's) bottom. They called me a gypsy and I could have been a true gypsy; there was nothing missed my eye – like that Sunday morning in church. I didn't hear anything else but I heard him say "gun". One Sunday morning I remember that we had been to church. We went into the orchard – there was a big orchard – and at one end were the haystacks. We had our schoolbooks and pencils and I had a lovely mahogany ruler. We had a lot of fowls in that orchard and I don't know what I was doing, but a fowl came up to me and I banged it on the head and killed it. I was realIy terrified I would get into trouble, so I picked the bird up, ran to a stack, grabbed up the bottom and stuffed the bird in there so nobody should find it. Later on when there was nobody about, I went and fetched it and put it down the old earth closet toilet, which was well down the orchard.

Once in the orchard, there was a wasp nest with a linen prop nearby. I put the prop in the nest and stirred it up. My poor sister was stung so badly she spent three days in bed. I was naughty.

Sad to relate, during a tremendous thunderstorm, a barn where father used to keep bullocks was struck by lightening and destroyed by fire. Mr Perry, the stockman, was killed. Father narrowly escaped injury when blazing timber fell on him. The barn stood between Barn Pightle and Barn Meadow and was halfway up The Chase between two cottages.

I well remember another great loss to the farm when a valuable and lovely young mare expecting a foal had to be destroyed when she fell and broke her back in Well Meadow.

I recall how I used, when no one was around, to go to the dairy and enjoy a taste of lovely cream of each pan. Each week butter and eggs were packed in a large wooden box and sent to Messrs. Stockings of Norwich, and returned with a stock of groceries.

Father's cattle were sold at Norwich market. When others were bought, men called drovers would bring them. Being on the road all night, they would arrive during Sunday morning, the sale having been the previous day.

Mr Walter Matlas was shepherd to a lovely flock of sheep of which mother was fond and proud. My sister Daisy and I loved to see the lambs and venture into the shepherd's hut. In the house, we baked all our own bread but our shoes were made in a factory and not in the village.

Unfortunately, my father died at the age of 63 on the 9th November 1890 when I was only three years old but I remember vividly his taking me to the harvest field in a wagon. Mother carried on the farm with the help of brother Albert for six years but in 1896, we left Caston. Three years later, she died of cancer. Thus at the age of nine I had, to my great sorrow, to say goodbye to chase Farm and to leave Caston.
N.B. The following notes were received 19th/20th February 2007 from Frank Marcus Banham who has supplied his email address. It says:-

Aware you cannot alter Edith Rolfe's "Memories of Caston" but Emanuel Banham's date of death was 7/11/1890 not 9th and aged 62 years. Hold certified copy of death certificate Registration Wagland, Sub district Watton issued 13/12/82 - Application No PAS 223776/82
Not all certificate registrations have been found to be correct, only what was supplied, in this case in 1890 and probably from the doctor, "T.A.Alexander, Phys.and Surg."

Our original information in this matter was obtained by us years ago from "A History of Caston" by John S, Barnes which you have reproduced in part.

Of interest, not provided by Aunt Edith who passed away 1/1/1982, was that Emanuel and Hagar had 16 children, 10 girls and 6 boys. Only two boys married, Thomas had three daughters and my grandfather Herbert one son, my father. He was most elated when my wife and I bore two sons to carry on the Banham name that from the Emanuel line would have died out. At this point we have one grandson 21 years next October to perhaps carry on the name.

We regularly visit England every few years visiting relations of both my parents, their villages and so doing update the family trees, trying to fill in a few gaps. In doing updates, every few years it can be worthwhile to see what new records are available, particularly cemeteries, etc. and coming across your website.

Thank you.
Frank Banham, Melbourne, Australia.