History of Caston
Caston, Norfolk is situated some 18 miles south-west of Norwich. It's 7 miles east of Attleborough, 4 miles south of Watton and 12 miles north-east of Thetford. Click here to open a pop-up window showing the exact location.
Those visiting Caston for the first time will find it is a very pleasant, quiet, agricultural village with a population of around 450 (2001). Caston has a very modern primary school serving the surrounding villages as well as a recently refurbished village hall. On the edge of the village green there is the very attractive church with a partly thatched roof.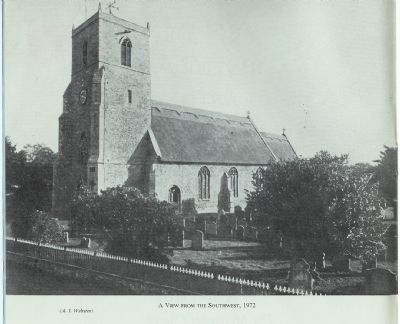 Parts of the church date back to 1300 and indeed inside the church is a list of rectors that goes back to 1305. Also on the edge of the village green is the site of Caston's last pub (although in years gone by Caston sported as many as six) but this like the others eventually closed its doors in Sept 2007 however it reopened some four years later in 2011 after extensive refurbishment. At one time there were numerous shops spread around the village but sadly these are no more. Like most villages, the coming of the motor car and the supermarket coupled with a desire for ever more convenience and more competitive pricing has driven the local trader out of business including that of the post office which closed some years ago and was replaced with a part-time post office that traded from the village hall each Monday and Wednesday morning for two hours from 9am to 11am. But that too is now gone as part of the Post Office closure programme of 2008. Having said all of that, Caston is only some four miles from Watton where it is said you can buy everything other than shoes and even these are available on Wednesday at the street market.
We earlier mentioned the village green which is where we also find the base of the fifteenth century cross, the war memorial erected in 1921 and the very pretty village sign. Standing on a flint faced base, it was unveiled in 1969. The sign, shown very clearly at the top right hand corner of this page, depicts three pilgrims passing Church Farm on their way to the Shrine of Our Lady of Walsingham. One of the pilgrims is seen kneeling at a prayer desk. In mediaeval times, the present Church Farm was traditionally a place for their refreshment.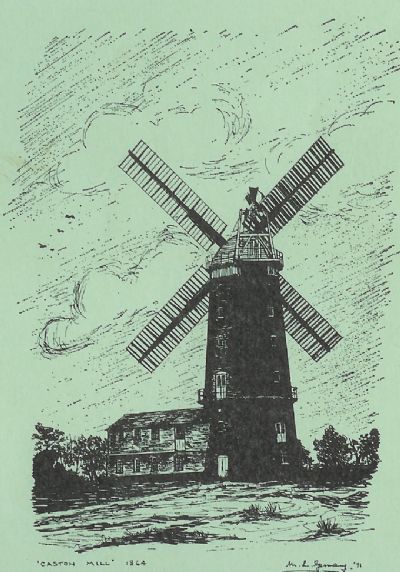 No tour of Caston would be complete however without a view of the windmill. Built in 1864 for one Edward Wyer the drawing shows an artists impression as it was then. The building is now a private residence so please view from a distance and respect the privacy of the owner.
Through this web-site, it is hoped to bring you more detailed information about Caston, its history and the activities that go on. More pages will be added over time and we will be particularly interested to have any pictures showing the village in times gone by and to hear from anyone who has any connection with Caston but has now moved away. If you were born here, married here, lived here, educated here or indeed have any other connection with Caston then do email the webmaster and let us know where you are now and perhaps allow us to publish any memories or photos you may have. See more 'old' photos from the early 1900's on the Photo Gallery page.
But, this is only a small part of the history of Caston. If you would like to know more please look at our Useful Links page
Click HERE to join our mailing list